Short Description
Edit the workspaces with a simple drag'n drop system.
Requires Icy 1.2 at least.
Documentation
In Icy, workspaces are not dynamic, you will have to restart Icy to see all your changes. 
To enable a workspace, please go to: Menu > Preferences > Workspace > Local Workspace and check the box. When validating, you will be asked to restart Icy.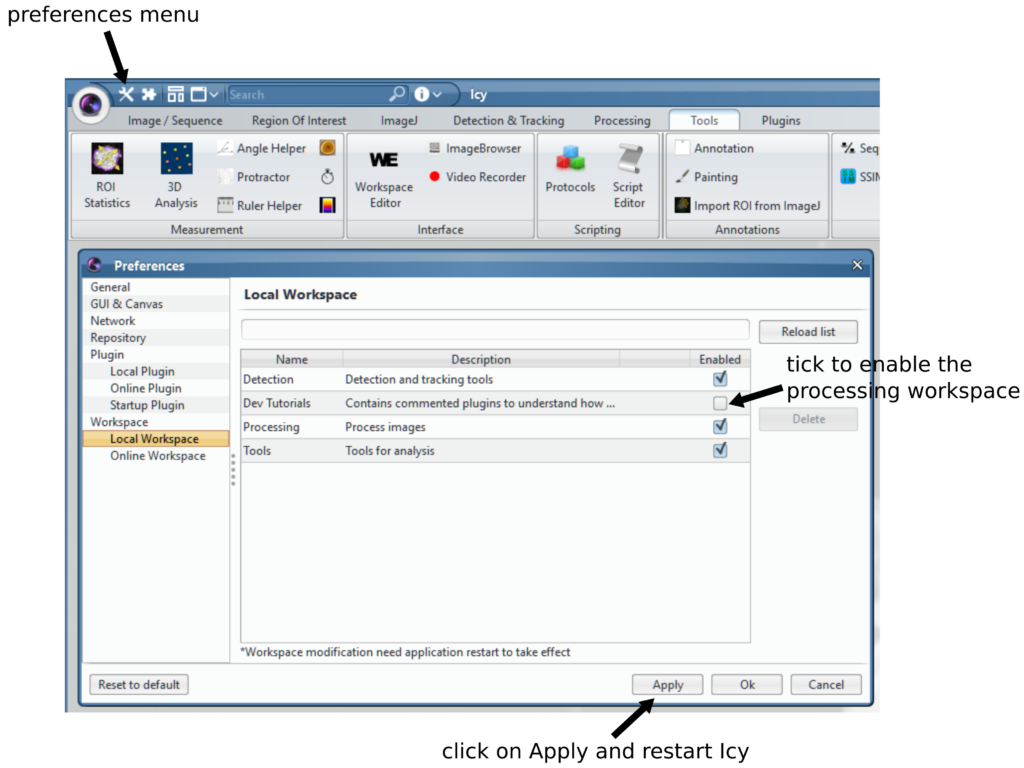 GUI of the workspace editor
This is the GUI of the Workspace Editor:
On the left, all the currently installed plugins.
On the right, all the workspaces, choosable by a combo box.
Each band of the selected workspace appears as a separated panel.
You have the possibility to display or not the plugins contained in each band by clicking on the band name.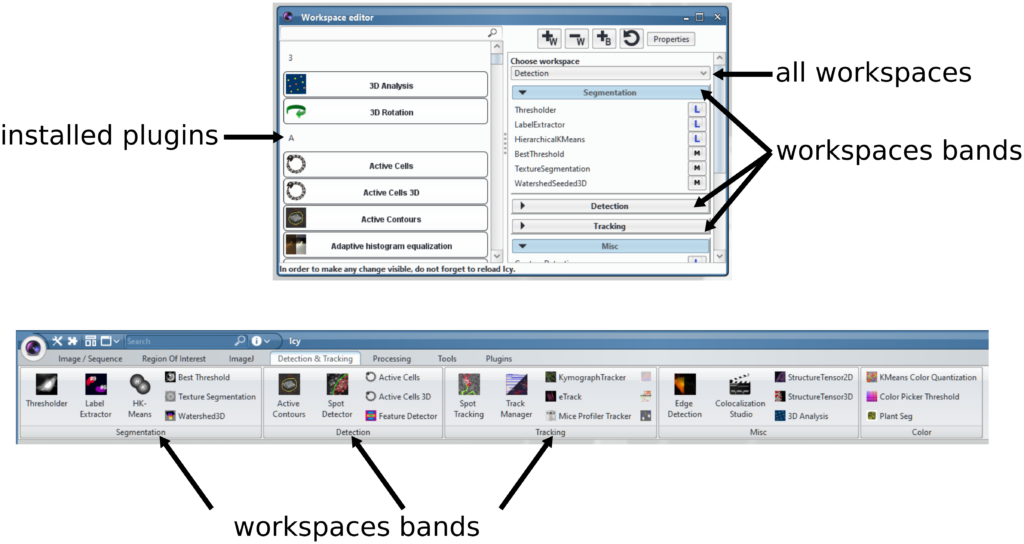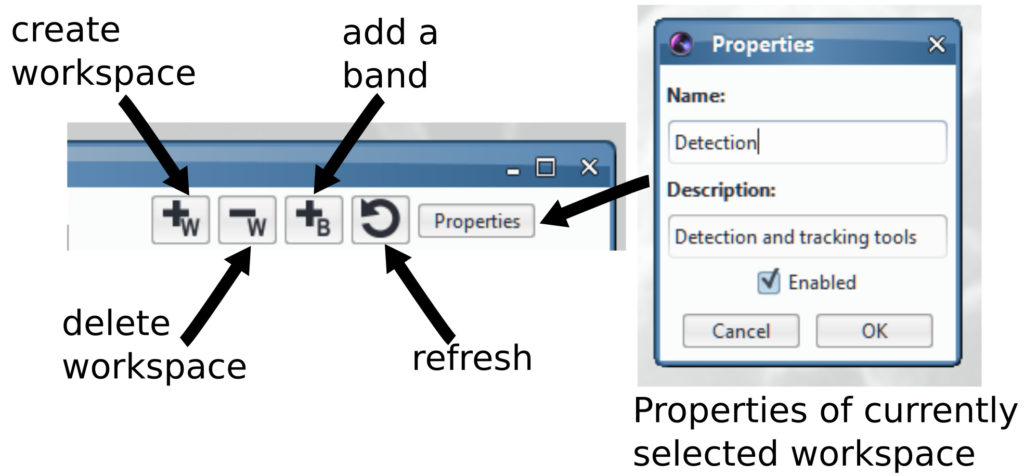 Create a workspace
In order to create the workspace, please click on the +W button.
The following box appears, enter the workspace name and hit "OK". The workspace is created, but is empty.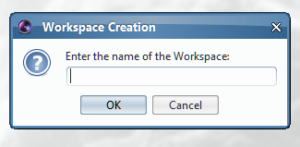 Create bands
The workspace is organized by bands, each one containing plugins. Some plugins may be in different bands.
In order to create a new band, please click on the +B button.
Enter the band name.
The band is created in the workspace.
Add plugins into bands
Workspace Editor supports a very simple drag' drop feature to add plugins into bands. Just drag the plugin from the right to the band you want, and it will be added.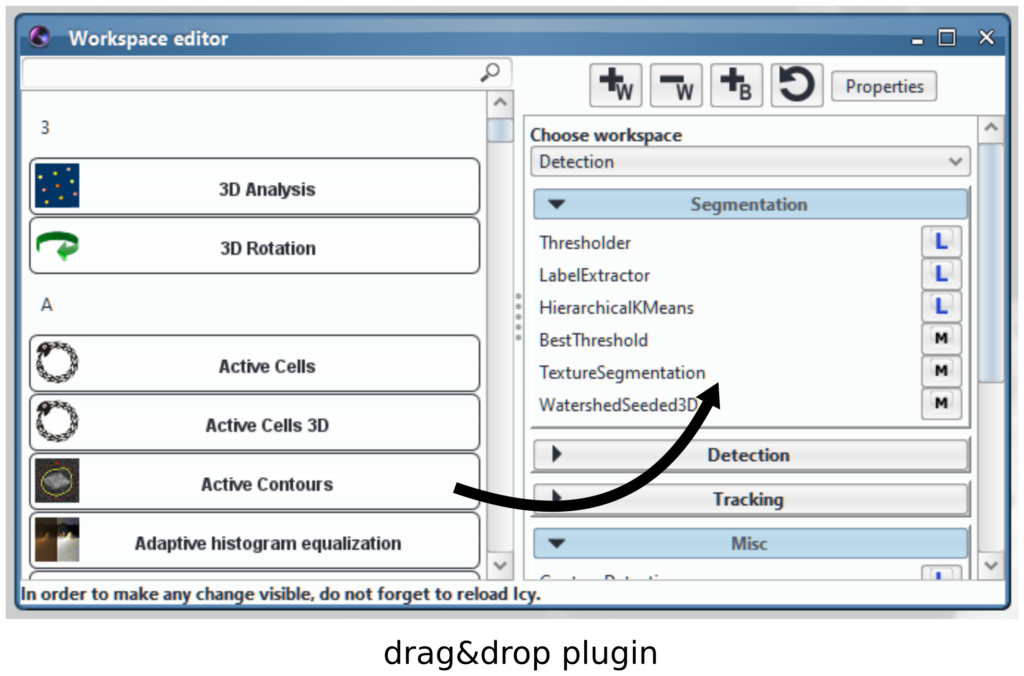 The result is this: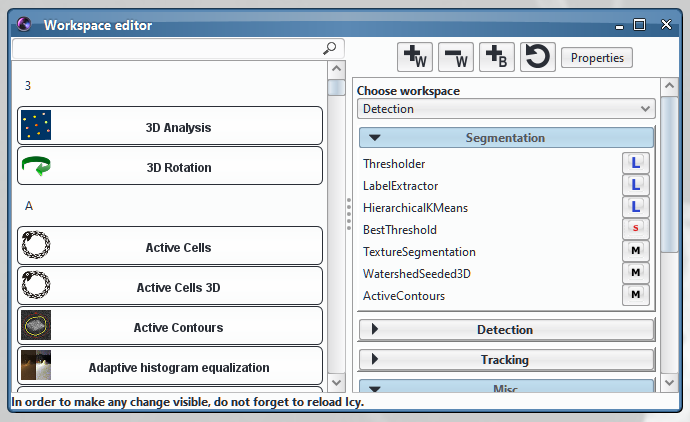 On the right of the plugin, you can notice a button: L, M or S. This indicate the size the plugin will have in the band: "S" for small, "M" for medium and "L" for large. To change the size, simply click on the button.
In the previous image, the "Active Contours" plugin will of medium size, the Thresholder the biggest possible and the Best Threshold plugin the smallest.
Note: you can choose multiple plugins at once by holding down the "Ctrl" button and clicking on them.
Remove items
Remove a workspace
In order to remove a workspace, choose it in the combo box, and simply click on the -W button. Be careful, this operation cannot be undone.
Remove a band
Removing a band can be done by right clicking on the band to delete and select "Remove Band" in the popup menu. Be careful, this operation cannot be undone.
Remove a plugin from a band
Remove a plugin from its band by right clicking on it, and select "Remove Plugin from Band".