Short Description
This segmentation method performs a N-class thresholding based on a K-Means classification of the image histogram, then extracts objects in a bottom-up manner using user-defined minimum and maximum object sizes. Very useful to detect clustered objects in fluorescence microscopy.
This book chapter proposes a video tutorial on the HK-Means plugin (see tutorial 2). Images used in the tutorial are available on this Zenodo repository.
Documentation
To cite this plugin, please refer to this paper: A. Dufour, V. Meas-Yedid, A. Grassart, and J.-C. Olivo-Marin, "Automated Quantification of Cell Endocytosis Using Active Contours and Wavelet", Proc. ICPR 2008, Tampa, FL, USA.
Getting started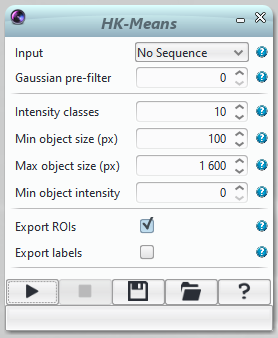 Input: Sequence to process.
Gaussian pre-filter: To pre-process the sequence with a Gaussian filter give an integer value >0 (sigma of the Gaussian blur in x,y for a 2D sequence and x,y,z for a 3D sequence)
Intensity classes: 10 by default. Increase this value if the objects of interest have different intensitye values.
Min object size (px): minimum size of clusters, in pixels. To estimate the size of objects (for instance nuclei) on a 2D sequence, draw a ROI around an object and check the value of its interior. To estimate object size on a 3D sequence, draw a 2D ROI on one slice (one Z position), and multiply the interior value of this ROI by the number of slices spanned by the object.
Max object size (px): maximum size of clusters, in pixels. See above how to estimate objects size.
Min object intensity: at least one pixel of the object must be of this intensity. Mouse over objects and background to evaluate the minimum objet intensity.
Export ROIs: output objects as region of interest.
Export Labels:
Block HK-Means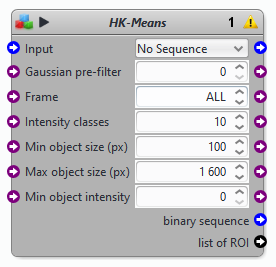 A few parameters in the block are different from the HK-Means plugin interface:
Frame: to apply HK-Means on all or only one frame.
binary sequence: output a binary sequence witth two labels (background and objects)
list of ROI: output objects as region of interest.