Icy is free and open source (license GPLv3)
Icy requires at least Java 8 to work and even if it should work with newer version (up to Java 11) we recommend to use Java 8 (OpenJDK or Oracle version depending what you prefer).
You can download it here if needed:
Note it's important to properly define JAVA_HOME variable and have Java correctly referenced in path so be sure to check these options when installing OpenJDK (it should be done automatically for Oracle JDK):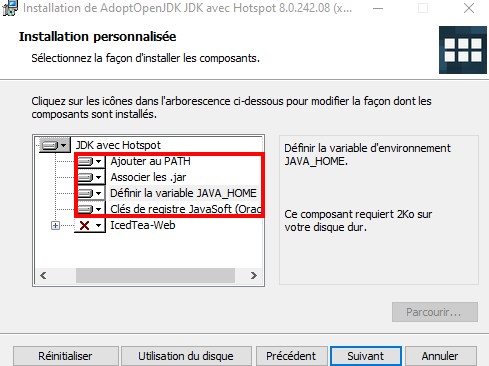 IMPORTANT NOTES
Mac OSX users
You need to have JDK 8 installed (not the JRE) otherwise Java won't be recognized.
Move the Icy application into the Applications folder then the first time you try to launch the application it may not work because of the default Security preferences. You can force it by doing right click on the application icon (or Ctrl+click) and use Open command. Validate the Open operation then now you should now be able to use Icy normally.
Windows users
Do not install Icy in the Program Files folder or the auto update process may fail because of missing write permission (C:\Icy is a good alternative). If VTK library loading fail, try to install the VC++ redistributable package on your system.
Linux users
Icy now includes the VTK binaries (with java binding), be sure to start Icy from its folder so VTK library can load correctly.
Still you may experience incompatibilities depending your Linux distribution (we tested only for Ubuntu and Mint), in this case you may need to install (or compile) the dedicated VTK package (version 6.3 currently) with java wrapper for your distribution and move the library files (.so) into the lib/linux64/vtk folder of Icy.
Old java 6 / OpenGL users

Note that if you only have java 6 on your system, you can download an older version of Icy (1.8.6.0). You can find the download link at bottom of this page.
Starting from Icy 1.8.0.0 the VTK library has been upgraded to version 6.3 and now uses the new OpenGL2 back-end for rendering. That means older graphics card may not support VTK 3D rendering anymore, same is true for older Mac OSX systems (<= 10.6.X) which don't support the new OpenGL based components for VTK. If you really need to use VTK and OpenGL2 is not supported anymore by your system, then you may stick with the 1.7.3.0 version of Icy (you can find the download link at bottom of this page).